Large And Small Format Framing Options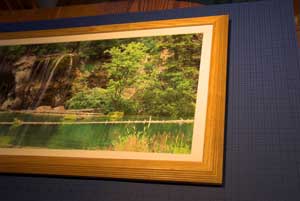 With images this big, it is a good idea not to take any chances. Framing systems need to accommodate oversized images and provide good support and help to show off your artwork.
Our frames are made of solid wood, built at our facility and custom made for every image.
Each frame consists of;
Hard wood frame, mitered, glued and routed to ensure a tight fit.
Framing quality plexiglas is our standard clear protection, you can also substitute glass.
Click here to see frame choices.
Our mats are one piece, acid free and custom cut to each image. Right behind the mat and the image is our mounting board. Our mounting boards are also acid free so the image rests within a safe, long term environment. The images are printed on archival quality photographic paper and have a life expectancy of 40-100 years. Backing board is the final material used which protects the mounting board, matting and image. You can see the backing board in the photo below.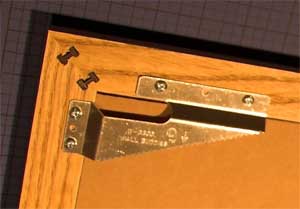 Our fasteners reflect the same quality as our framing materials. Each image is locked in place with metal offsets and secured in place using screws. We do not use nails or staples. The images can be removed for frame cleaning or installing a new mat with ease.
We use Wall Buddies for our standard hanging hardware. They are durable, extremely easy to hang and can be adjusted to achieve a level, stable piece of art. They come with wall hangers which clip into place and provide for a solid connection. These connectors take the stress off the frame and help to make sure the frame stays in top shape.
Together these components create a reliable, safe framing system that will keep this artwork in place and well protected.
Currently only Oak framing is available, however we will be introducing new options in the coming weeks. If you have a specific need, you can use the contact page to let us know. We have several different options available now. This page will be updated soon.
Choose your framing options at time of purchase using our secure server.